Day 4: Local knowledge and winning visitors
by Marina Johnson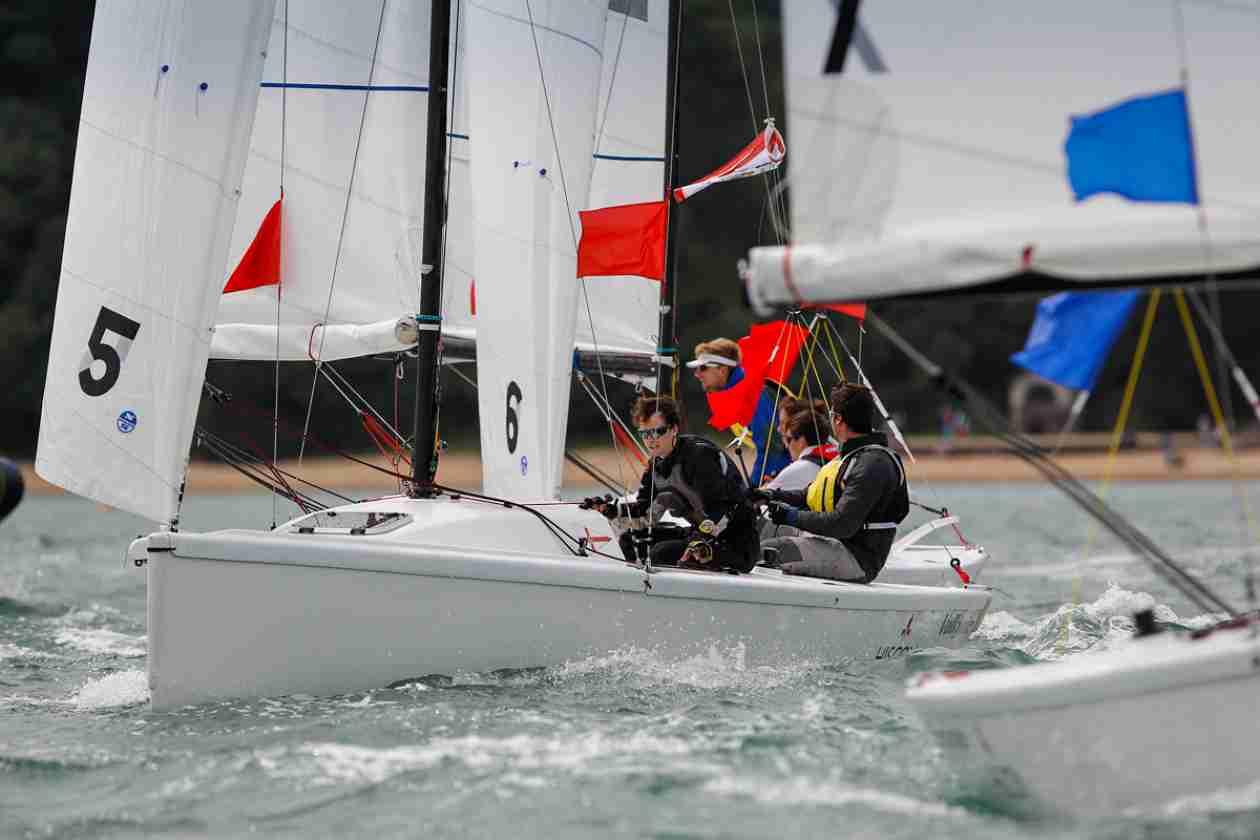 Today was a day where local knowledge was the winning advantage for the races 'around the cans' for the J Class and Maxi Yachts along with the IRC classes at the Royal Yacht Squadron's Bicentenary International Regatta. While they battled it out on long Solent Race courses, however, there were some equally fierce competitions going on in other parts of the Solent, with intense and close racing between some very skilled sailors, and it's the foreign visitors that are leading the fray.
The two classes are the Level Rating Class and the Team Racing Class, and they are being dominated by overseas clubs who have been invited specially to the event to mark the Royal Yacht Squadron's 200th anniversary.
The 10 yacht clubs taking part in the Team Racing Event from around the world and the UK are racing on a small course in the sheltered waters of Osborne Bay, to the east of Cowes. "There is terrific sportsmanship amongst the crews and a good team spirit," reports their Race Officer Tony Singer. "We've already done 48 hours of racing and fitted in 90 races so far." After three Round Robins, St Francis Yacht Club from San Francisco have won each one and are firmly in the lead, looking all but unbeatable. Their helmsman Kevin Laube revealed the secret "Three of us raced together at Stamford and we've all been training together for three years." He adds "We've really enjoyed the event. Today's conditions were pristine."
Hot on their heels with a second in both round robins is the Yacht Club Costa Smeralda, captained by Jacopo Pasini and with everything to play for with a second and third, the Royal Thames Yacht Club whose crew includes Volvo Youth Sailing ISAF World Champion Ben Gratton. The Team Racing crews are all under the age of 30 and more than one third of the crews are female.
With the three Round Robin Series completed, the semi finals will be run tomorrow followed by the finals and petit finals.
On the opposite side of the Solent on the North Shore, a Level Rating fleet of 10 one-design Beneteau First 40s were competing in equally close racing. The overseas teams have been showing what it takes to be a winner. Real Club Nautico de Gran Canaria have won three races and lie in first place with New York Yacht Club in second with two wins.
"We've had three fantastic races today," comments Simon van der Byl, Race Officer for the Level Rating. We set three fair and square windward leeward courses, despite a few shifts in the wind, but at least wind strengths were a steady 10-12 knots. Racing has been very close and Gran Canaria is doing very well." Van der Byl thought to put in a word for the host team, though, pointing out, "Of course the RYS has done very well today as well with a 1st, 2nd and 3rd. Julia Bailey is the tactician who has been guiding the home boat to some good results!" Meanwhile the three J Class yachts enjoyed two races in the eastern Solent today – the speed with which they the legs of the course and the agility and skills of each mark rounding, spinnaker hoist and drop, made them look like Olympic dinghies. Velsheda took the first gun in both races. The grand Classic yachts also tackled an east Solent course, at a pretty good pace too. After so many windy days, the weather today at last settled into a pleasant 12-15 knots from the north west, ideal for some great race conditions.
In IRC Class 1 Bella Mente showed she has pace on the tight race track too. Although Rambler led the fleet to line honours some 13 minutes ahead of Leopard who was the second finisher on the water, Bella Mente beat Rambler into second place on corrected time today over the west Solent course which featured plenty of mark roundings. Leopard, who has been absent for the first part of the regatta was joining in the fray for the first time, and will race again tomorrow.
In IRC Class 4, a 75 year old 50 footer Bojar is making herself known. She won her class in the Race Around the Island yesterday and came second just behind Rives Potts' Carina today. "A certain amount of local knowledge was very useful," said crew member and experienced navigator Nick Ryley, who is a local resident. "There were a lot of tidal calculations to be done and some big windshifts in the western Solent which made the racing very challenging."
TP 52 Gladiator also gained from on board local knowledge. "This is great experience for us," says dinghy champion and regular navigator Feargal Finlay. "We normally sail with a full professional crew, and because this is a corinthian event we have integrated a few different people. But we also had some secret weapons on board including Jules Salter, who probably knows the Solent better than anyone." He adds "We had some close contact with Tonnerre today, and we have really settled into our groove now that we had ironed out the teamwork".
Anthony O'Leary from the Royal Cork Yacht Club is racing his Ker 39, Antix with family and friends and gained victory in Class IRC 1A today. He said of his podium result "We kept mistakes to a minimum, thankfully, and got it right. It was lovely, a beautiful day in the Western Solent - as nice as I can remember and made better by the results. We were also rather lucky to have Invictus out in front of us as a sort of a signal bearer to help us get our good result today." He adds "We are enjoying being part of the regatta."
Don't forget to follow us on Twitter @rys_bicentenary.