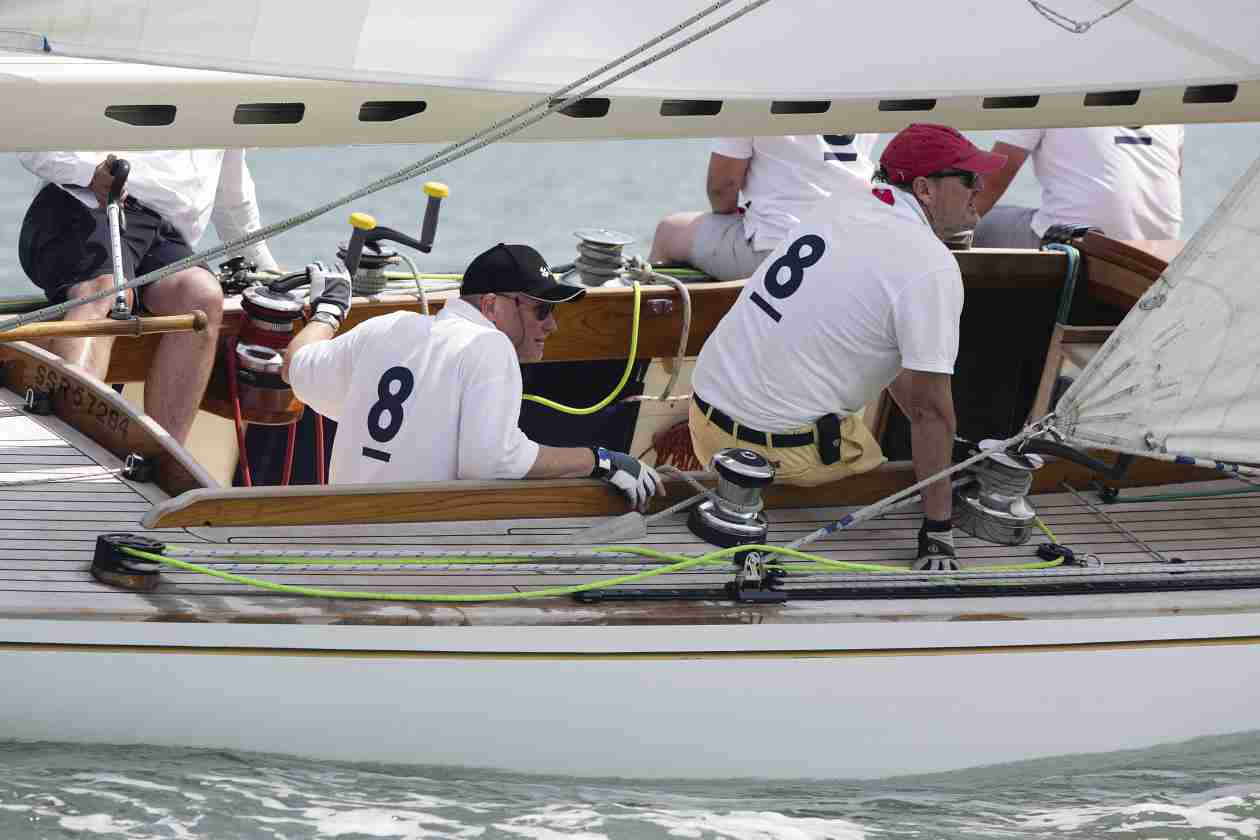 Saskia was designed in 1930 andbuilt by William Fife III as a Royal Northern Yacht Club challenge for the Seawanhaka Cup so very hotly contested at the time. She was shipped to Oyster Bay, New York in 1931 and she won. Saskia returned to Britain and was sold south where she raced very successfully in the Solent. There were nine 8 metres racing on the Solent at the time and eight on the Clyde. A sterling silver model of the boat now resides in the Royal Yacht Squadron. She was chosen to represent Britain in the Berlin Olympics of 1936, the sailing events being held at Keil. It is rumoured that in Kiel, Hitler came aboard the German 8 metre that was competing there and also visited Saskia, commenting unfavourably.
Saskia raced hard and in 1938 alone she raced in over 50 races during the season. Sir William Northam bought the yacht and shipped her to Sydney, Australia, in order win back the Sayonara Cup from Melbourne, the most prestigious cup in Australian big boat racing since 1904. Saskia won the regatta in 1955. She was refitted in the 1970s and continued to race. She came back to the UK in 2007, having been refitted in Australia, and was purchased by her current owner.
Saskia will be helmed by J Gilmour Manuel.
Fro Glasgow, Cotland, J Gilmour Manuel grew up sailing his fathers 50' McGruer ketch of 1946. He raced a Flying Fifteen to 1956 then owned Dragons 194, 364 and 448. He was Clyde champion 1960 & 61 and took 5th place in the Dragon Gold Cup at Rothesay 1961. He won the RTYC inter club challenge Cory Cup at Cowes 196 and won the Mudhook YC Young Cup for Universities three years in succession 1959/61. He crewed on 12 Metres Sceptre 1960 & 61 also Norsaga.
J Gilmour Manuel migrated to Canada 1961 and raced Lightenings, Dragons and Six Metres from Royal Hamilton and Royal Canadian Yacht Clubs. In 1964 he joined the Norsaga crew as tactician and joint helmsman with David Thomas in Newport Rhode Island USA. The yacht acted as trial horse for the Royal Thames Sovereign challenge for the Americas Cup. He returned to Scotland in 1966 and continued racing Dragons. He won the Edinburgh Cup ( British championship ) in 1974. He helped introduce the Etchells 22 to the Clyde in 1973. He campaigned three boats to 1996, and served on E 22 One Design & Technical committee 1980 to 1995. He helmed a Sigma 38 for 10 years on the Clyde class champion for 5 years and became an ISAF International Judge 2001 to present and RYA National Umpire 2002 to 2013. J Gilmour Manuel won the Panerai over all prize helming 8 metre Saskia at Cowes 2013 also Royal London YC 8 metre class at Cowes 2013 & 2014. He was Commodore of The Royal Northern & Clyde Yacht Club 1998 to 2002.
Source: Classic Boat/MF