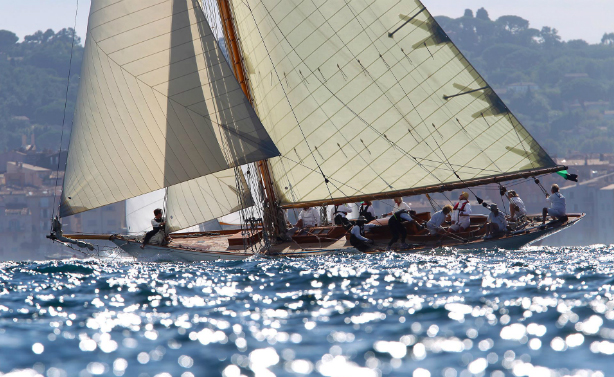 Kelpie is a Solent 38 One Design gaff cutter built in 1903, one of 8 built and either raced "scratch" against her sisters or originally rated as a 42 linear rater. In 1907 she competed in the first ever 12 metre race but was quickly outclassed as a 12 metre as boats designed and built specifically to the 12 metre rule started being built.
In 1923, Kelpie was re-rigged - still as a gaff cutter, but with a much taller mast and shorter bowsprit and boom - and competed successfully again for a short time as a 12 metre - even against the early Bermuda-rigged boats.
Soon after that she was again outclassed as the second and third rule boats came in.
Kelpie has been extensively restored by her present owner Mr Pelham Olive, which has taken her back, as far as possible, to her 1920s rig. She has had quite a bit of success in the Classic Yacht Regatta circuit sponsored mainly by Panerai in the western Mediterranean using the CIM ratings and rules, and also won a number of regattas on the English south coast. She took part in Europe Week in Norway in 2014 and a number of other regattas in the Baltic that year.