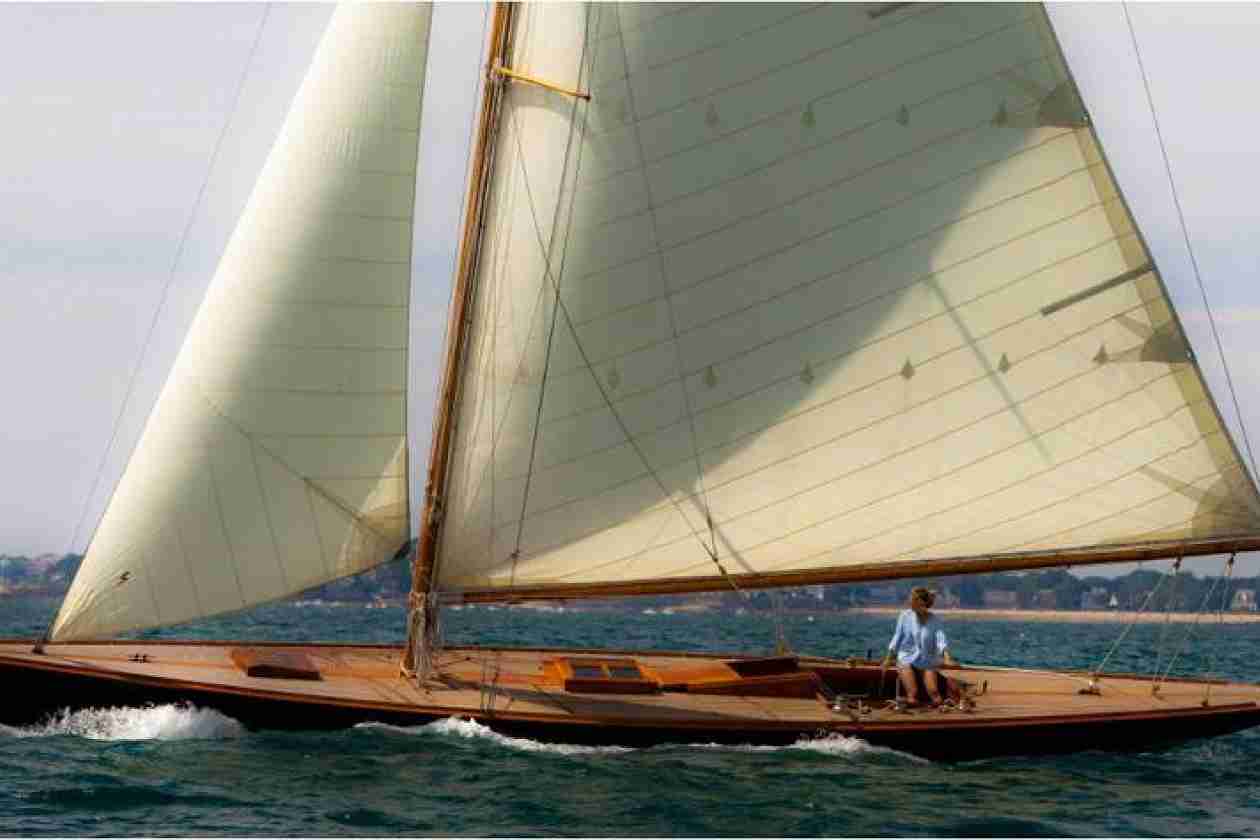 Enchantement is an 8 mR designed and build in 1923 in Norway by Johan Anker, famous for his many victories in all metric classes from 1906 to 1939, and also as designer of the Dragon.
Her first owner, Robert Meiffre, was a French yachtsman who ordered her directly to Anker, which make her a unique exception in the French 8 mR class before WW2, since all other French 8 m owners ordered their boat to French designers and yards, compelled to do so by their strong nationalist belief. But Meiffre just wanted to win, and he definitely won: 30 victories in 44 races in the 1924 season.
In 1928, Enchantement competed against Aile VI in the Olympic selections in Le Havre. As she was far ahead in a last decisive regatta, she broke her mast, so Aile VI was selected for the Olympics and won the gold medal in Amsterdam. Today Aile VI and Enchantement race together every summer in Noirmoutier. Enchantement didn't break her mast again and had the opportunity to take her revenge many times. She has always stayed in French waters since her birth. The RYS bicentenary will be her first trip in international waters.
Alexandre Geoffroy says "It is good to be the happy owner of this wonderful boat, with two friends. Clearly, this is the most important sailing event of the (bi)century! And from a more personal point of view, this is a sort of return to my roots: in 1996 I sailed during the Cowes Week with a friend, an RYS member on a Daring. This was a sort of sailing re-birth, and to make a long story short, these races at Cowes were the root cause for me to buy Enchantement." He adds " I am looking forward to having some nice sailing time with family and friends, and possibly beat one or two British 8 metres."
The family based crew consists of:
Alexandre GEOFFROY, Versailles, France, owner, helm, ageoffroy@idrh.fr
Antoine OGERAU, Paris, France, co-owner, tactics & helm
Diane GEOFFROY, Versailles, France, daughter (21 years old)
Guillaume GEOFFROY, Versailles, France, son (11)
Aurélien BREART de BOISANGER, Paris, France, nephew (15)
Eléonore OGERAU, Paris, France, daughter (10)
Bertrand POLAILLON, Buenos Aires, Argentina, friend
Christian CHAUFFOUR, Paris, France, friend
Source: MF